We are ...

A citizen organization with a vision for sustainable, transit-oriented development in and beyond Washtenaw County, Michigan.


Our Online Resources
Updates
Passenger Rail Corridor Development Program
The "Bipartisan Infrastructure Law" was signed into law on November 15, 2021. This law provides a historically unprecedented amount of funding for developing and improving passenger rail corridors. The FRA was assigned the task of quickly coming up with a system for administering this funding fairly and effectively.
Language in the law specifies many criteria for corridor development, and makes it clear that public input is expected. Since the criteria in the law are broad and general, the FRA is asking for input on how to interpret the law. This Request for information (RFI) asks for public input on how the funding should be administered.
My summary and discussion (PDF, 10 pages) can be downloaded from here...
Progress Here and There - Transportation/Development News of Interest
Dangers of Complacency - Public Comment to AAATA Board
In the face of rising - and potentially dangerous - traffic congestion in Ann Arbor, AAATA continues to "study" improvements to schedule adherence. Unfortunately, they are very reluctant to change "business as usual" or suggest any solutions that might come with a cost. Wake Up Washtenaw finds this very disappointing. The Ann Arbor community is looking for transportation solutions, but apparently we cannot expect meaningful solutions from our Transportation Authority. Read more...
Focus 2019: "Edge Cities"
This year, I'm turning my focus on a phenomenon that has sometimes been called "Edge Cities", though I'm using the term somewhat differently than what was popularized by Joel Garreau in 1991. Why this focus?
All cities that are growing prosperously, no matter where they are in the world, are experiencing a similar set of problems. The value of land in their core is increasing so much that service personnel are unable to afford housing near the core, and those who were housed there until recently are being forced out ("gentrification" is the term usually applied); as buildings grow taller in the core, the demand for access increases, but the cost of providing that access becomes more and more unaffordable to the governments responsible for providing it.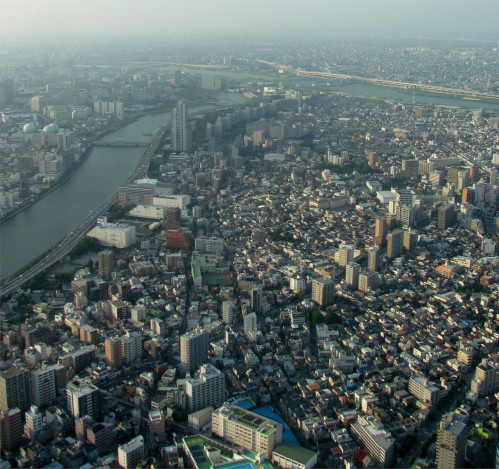 Affordable housing, commercial, and office space is needed "near" the core city. The problem is to achieve functional proximity at a reasonable cost. My focus has turned to a 21st Century version of the "edge city" concept as a possible solution.
If achieving functional proximity seems to be the key, what does it look like? How has it been achieved - if at all - in cities around the world? What are the major hurdles? What variations on the theme have proved more successful, and why? And how does one measure all the factors?
My travels in 2019 will take me to Vancouver Canada, Seattle and Sacramento USA, and in Japan to several cities including Tokyo, Osaka, Sendai, and Sapporo. All these are cities that appear to be growing prosperously while functioning reasonably well. The visit to Vancouver includes my fourth EcoCities World Summit, where I hope to share my questions and potential answers with others from even more cities around the world.
My goal is to lay the groundwork during August and September, including more detailed articulation of the issues and preliminary measurement of the parameters in each of the cities I mentioned - plus others I'm familiar with like Toronto, Denver, and of course Detroit. I hope you'll follow along with me on this quest for the 21st Century Edge City.
Wake Up Washtenaw's vision ...
We seek to bring together people and enterprises to ...
Develop communities that are attractive,
Use the most environmentally friendly technologies,
Provide meaningful alternatives to automobile transportation,
Offer a range of housing options,
Let residents walk to shops, schools, transit, worship, and entertainment,
...and make a profit doing it.
What is "transit-oriented development"?
Transit Oriented Development (TOD) is an area of compact development, incorporating commercial, residential and professional uses, within walking distance of a major transit stop, that facilitates walking and transit use. The urban design focuses on the pedestrian over the automobile.

What is "sustainable development"?
The simplest, most forceful and practical definition of sustainable development is from the World Commission on Environment and Development (The Brundtland Commission report):
Development that "meets the needs of the present without compromising the ability of future generations to meet their own needs."
The reasons ...
Housing development will happen in Washtenaw County. The county is projected to grow by 25,000 residents by the year 2020, even though other parts of Michigan are losing population.
Sprawl development is not sustainable. It is too costly to the environment, and too costly to residents who must drive to work, shop, and play.
Gen-Xers and Millenials are disenchanted with suburbia, and want real communities - ones that are kind to the environment.
Boomers are beginning to retire, are fed up with having to drive everywhere, and are increasingly unable to drive as they age.
The increasing cost of energy makes more efficient transportation a necessity for many Americans. Rail-based transportation is the most efficient per passenger-mile.
Michigan needs a new approach to meet the challenges of post-industrial era realities.
And the increasing cost of energy means "green" enterprises will be the ones that profit most.
The plans ...
Encourage sustainable redevelopment
Wake more Washtenaw County citizens up to the need to focus most of our development into existing urban areas;
Inform the people of Washtenaw County about the role of transportation in community growth and the benefits of planning communities around public transit;
Promote investment in public transit rather than increased investment in automobile-oriented facilities such as parking structures;
Support efforts to turn decaying strip developments into lively communities that incorporate living space in walking distance from shops, offices, and transit.
Show the way for sustainable new development
Unite citizens, enterprises, and environmental groups, to ...
Build a demonstration community,
Using compact, energy-efficient, and attractive design;
Sited along an existing railroad running through Ann Arbor,
Connected by frequent, affordable rail transit to Ann Arbor and surrounding areas,
To serve as a model of what can be done,
Using only private, for-profit funding; and,
Develop similar communities when the first has demonstrated its merits.

Walk the Walk!
University of Queensland's Sustainability Walk
Brisbane, Australia